CONTACT US!
Fill out this quick form and we will get back to you as soon as possible.
If you simply want to know our prices, please consult our "Pricing" page. The "Devices and options" page may also be useful to you!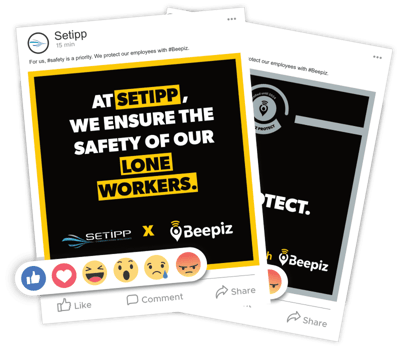 Join
30 000 Beepizers

!

Today, Beepiz helps hundreds of companies, in France and abroad, to protect their lone workers. Technicians, agents, drivers, sales representatives, warehouse workers... Our customers all have one priority: the safety of their employees.
Perzonalized

assistance
For 10 subscribed licences, a CSM (Customer Success Manager) helps you in the deployment and handling of the Beepiz solution throughout your OnBoarding.
TESTIMONIES
What our users say:
"Excellent, very efficient. I am a dog handler in private security and it works great."
"Just perfect, just the kind of application I was looking for, very reassuring in the construction field."
"Very good application! Our employees are well protected... Would recommend 👍."