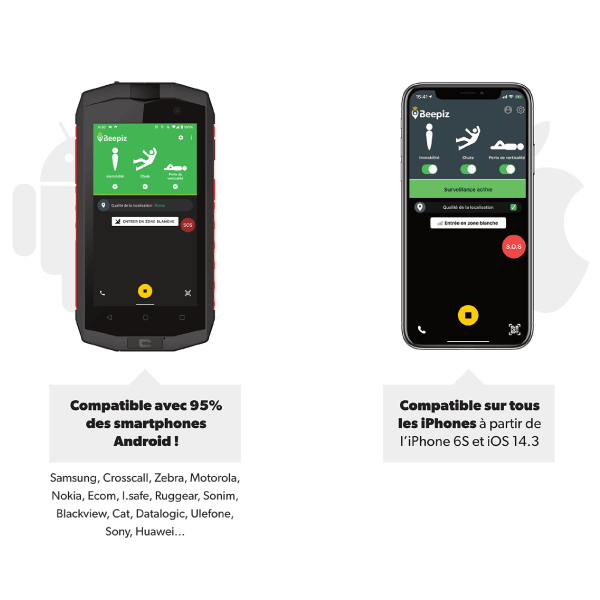 An app

available on all smartphones
No matter the brand of your lone workers smarpthones: Beepiz is available on Android and iOS.
So whether you have rugged, non-rugged, long-lasting smartphones or even explosion proof (ATEX) smartphones, no worries!
And if you still have a doubt, you should know that we carry out "Beepiz certifications", in order to check the good operation of the mobile with our safety features. Feel free to contact us about this certification.
The Beepiz app as a

safety device
The role of the Beepiz app is to send an alert when a lone worker is in danger. To do this, Beepiz works with 7 different types of alerts (and all thanks to an algorithm using smartphone sensors):

Fall
In case of a fall, an alert is sent.

Immobility
In case of immobility, an alert is sent.

Loss of verticality
In case of a loss of verticality, an alert is sent.

SOS Alert
Press the SOS button to send an alert. Depending on the mobile, it can be physical or virtual.

Aggression alert
Just like an SOS alert, but totally quiet for more discretion!
2 POTENTIAL INCIDENT ALERTS

Perte liaison
Pour anticiper les pertes de liaison, si le travailleur est hors réseau durant un laps de temps trop important, une alerte se déclenche.

Loss of signal
If the worker is off-grid for too long, an alert is triggered.
A

simple and flexible

app
You can adapt the Beepiz app to the sector or activity of your choice and you can let the workers change some settings or not. For example, they can stop one or more automatic detections. Also, if an alert is triggered unintentionally, the worker is able to cancel it before it is sent to the supervisors.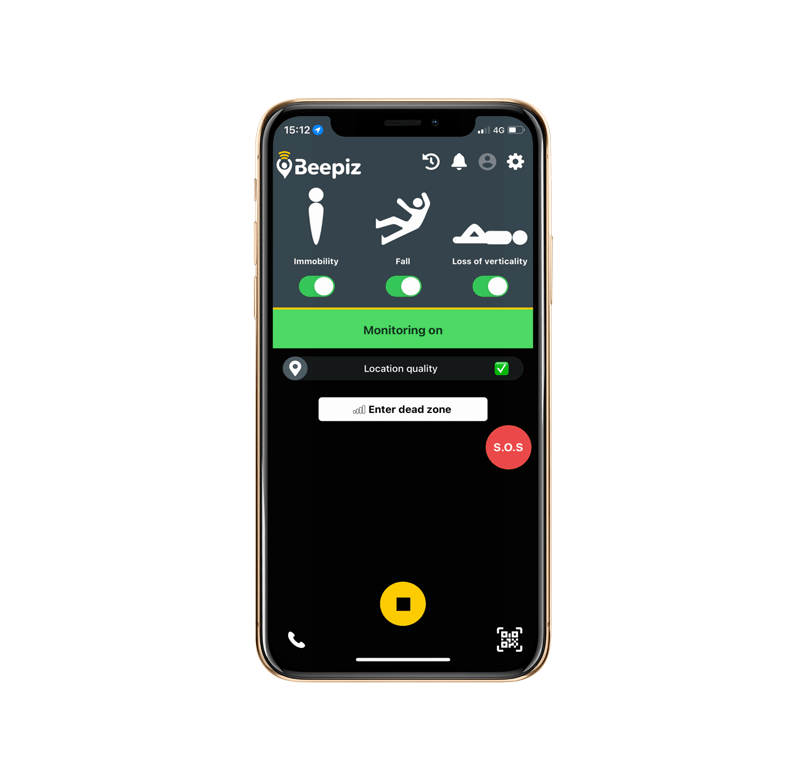 PPE CHECKLIST
At the beginning of a work session, the lone worker can report a missing PPE. Managers are then notified of this lack of availability.

POSITIVE SECURITY
The Beepiz app indicates thanks to a color code if the app is receiving a signal correctly. If it's not the case, a sound also informs the worker.

AUTOMATIC INHIBITIONS
Avoid unwanted alerts with automatic detection inhibition during a meeting or while driving!

REMINDER TO SWITCH BEEPIZ ON
A notification can be sent to users who didn't switch on Beepiz according to the schedule you have previously defined.

MULTILINGUAL APP
The Beepiz app is available in more than 10 languages.

LOCATION QUALITY
An indicator evaluates in real time the level of accuracy of the location outdoors with a GPS and indoors with ActionPoints.

MASS NOTIFICATION
You can send personalized mobile notifications to the users of your choice (mass mailing, to active users, etc.).

PATROL FEATURE
Beepiz allows you to carry out patrols.
Why choosing Beepiz,

the
lone worker app ?

Very easy to use
In order to be used, not only a safety device must be

useful

but also very

easy to use

: it is the case for Beepiz.

Highly flexible
Thanks to your customer space, you can

set up the sensitivity

threshold of your alerts depending on the different services, jobs.

Fast deployment
From

the

management space

, the supervisor can deploy hundreds of licences on your smartphones fleet

in a few minutes

.

The detailed alert
Beepiz sends

the most complete alert

of the market: type of alert, user's identity, GPS position, indoor location with map and picture... All needed information for a quick rescue.
Questions about the Beepiz app?
With which smartphones is the Beepiz app compatible? 📱
Our lone worker app is compatible with all iPhones and Android smartphones certified Google Play (more than 95% of smartphones sold in France). To get more information about the compatibility of Beepiz with your smarpthone, check here our tested smartphones.
Does the Beepiz app consume a lot of battery? 🔋
We noticed that on a session of more than 9 hours of non-stop work, Beepiz consumed 30 to 35% of battery (mainly because of the constant use of GPS). This represents only 3% of battery consumed per hour.*
*Test realized on an iPhone 8 and iPhone XS in 2021
Does the phone need a SIM card for Beepiz to work? 📶
To fully function, the Beepiz application requires an internet connection. This can be mobile data like 4G (with a SIM card) but also a simple Wi-Fi connection.
How to subscribe? 🤔
It's very simple, fill out a form, quickly discuss your requirements with a Beepiz expert and all you have to do is sign the quote! Once signed, you can receive your Beepiz access and licenses in less than 48 hours!
Trusted by more than 250 companies