THE

B2 ALARM DEVICE
The B2 product is a rugged terminal for the protection of the lone worker. The B2 alarm device is a hybrid between a smartphone and a classic lone worker safety device. It is particularly intended for professionals likely to carry out missions in a risky environment. It is very popular in the building, public works and transport sector.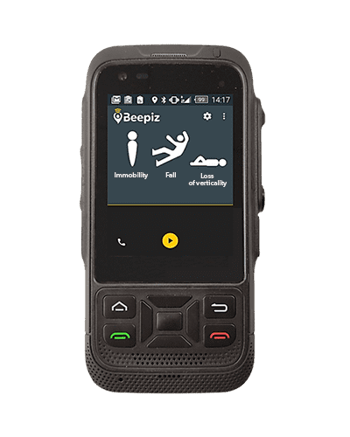 The solidity of a professional radio & the power of a smartphone
Technology for a complete using of Beepiz

Smaller than an actual smartphone

2,8" screen

Works with a Wi-Fi network or 3G

Location with GPS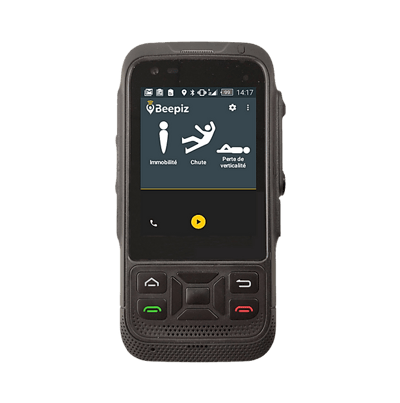 Very resistant, suitable for all working environments.

Water resistant (IP68 standard)

Dust resistant

Resist to fall (up to 1.5 meters)

and to extreme temperatures (from -20°C to 60°C)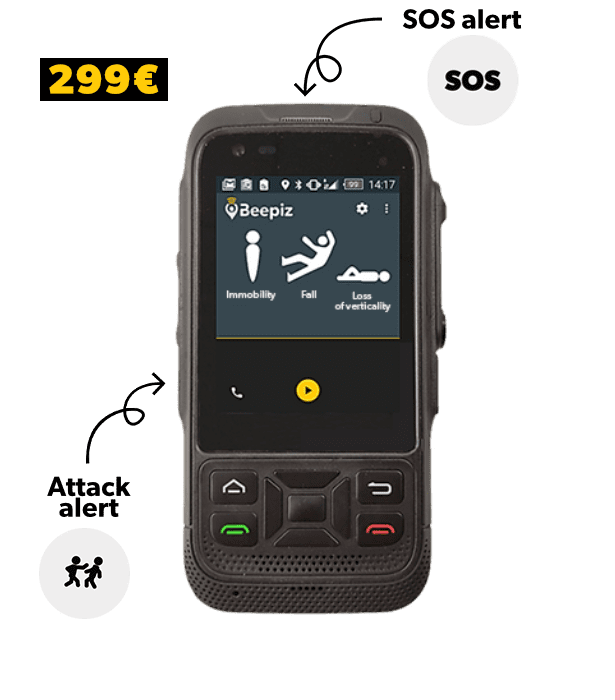 Send an alert in total discretion!
Thanks to the dedicated SOS touch
Not only highly resistant, the B2 alarm device has a dedicated SOS and attack button. This allows the lone worker app to send detailed alerts once the button is pressed. The side button is used to trigger attack alerts, while the button on top of the terminal is for SOS alerts.
A safety device at the belt!

👍
With this beacon, a resistant clip can be attached which gives you the possibility to wear the Beepiz app on your belt in any situation. At your workplace, it brings complete monitoring and it keeps your hands free.
In this way, the B2 beacon can perfectly detect any fall, loss of verticality or long-term lack of movement !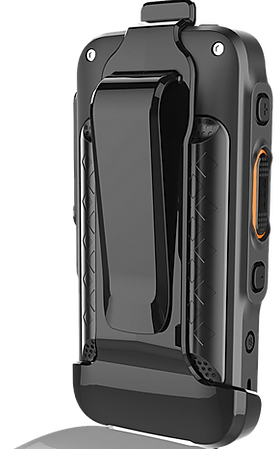 Advantages of the dock station?

😀

USB connectors are not damaged : thanks to the dock station, the USB connectors are not damaged as it can be on other devices.

Fast charging : the B2 alarm device is quickly loaded on the dock station. This allows a better acceptance and implementation of the lone worker solution in your company.

The Beepiz app can start automatically when the device is removed from the support and stop when it is placed back on the dock station.